The Centre of Memories: work in progress. Case of the Michel Giacometti Labour Museum, Setúbal, Portugal
Isabel Victor

Museum Department of the Institute of Museums and Conservation (ICM)
Resumo
The work on Social Memory, focused on the biographic method and the paths of immaterial Heritage, are the fabric that we have chosen to substantiate the idea of museum. The social dimensions of memory, its construction and representation, are the thickness of the exhibition fabric. The specificity of museological work in contemporary times resembles a fine lace, a meticulous weaving of threads that flow from time, admirable lace, painstaking and complex, created with many needles, made up of hollow spots and stitches (of memories and things forgotten). Repetitions and symmetries are the pace that perpetuates it, the rhythmic grammar that gives it body. A fluid body, a single piece, circumstantial. It is always possible to create new patterns, new compositions, with the same threads. Accurately made, properly made, this lace of memories and things forgotten is always an extraordinary creation, a web of wonder that expands fantasy, generates value and feeds the endless reserve of the community's knowledge, values and beliefs.
Downloads
Não há dados estatísticos.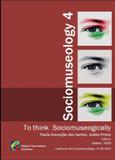 Como Citar
Victor, I. (1). The Centre of Memories: work in progress. Case of the Michel Giacometti Labour Museum, Setúbal, Portugal. Cadernos De Sociomuseologia, 38(38). Obtido de https://revistas.ulusofona.pt/index.php/cadernosociomuseologia/article/view/1653
Política para Periódicos de Acesso Livre
Autores conservam os direitos de autor e concedem à revista o direito de primeira publicação, com o trabalho simultaneamente licenciado sob a Licença Creative Commons Attribution que permite a partilha do trabalho com reconhecimento da autoria e publicação inicial nesta revista.