Design (Non) Fiction: Deconstructing/Reconstructing the Definitional Dualism of AI
Franziska Pilling

Lancaster University

Joseph Lindley

Lancaster University

Haider Ali Akmal

Lancaster University

Paul Coulton

Lancaster University
Abstract
2001: A Space Odyssey (Kubrick, 1968) speculates on humanities technological ascension through the exploration of space and the ultimate transcendence of humanity galvanised by the invention of AI. Every detail of this portrayal was an exercise in World Building, with careful considerations of then state-of-the-art technology and informed predictions. Kubrick's speculative vision is comparative to the practice of Design Fiction, by suspending disbelief and leveraging a technologies emergence to question the future's sociotechnical landscape and its ramifications critically. Discovery's AI system, Hal9000, is a convincing speculation of intelligence with Kubrick's vision showcasing current and long-term aims in AI research. To this end, Hal9000 uniquely portrays Artificial General Intelligence (AGI) underpinned by visualising 'narrow' AI subproblems; thereby, simultaneously highlighting then current research agendas within AI and manifesting them into the aspirational research agenda of human-computer symbiosis. As a result of Kubrick's mastery in suspending a viewer's disbelief despite portraying a particular reality for AI, and humanities fascination with artificial life, the term AI simultaneously refers to the grand vision of AGI as well as relating to the contemporary reality of narrow AI. This confusion, along with establishing AI's ontology, are current challenges that need addressing to create effective and acceptable realisations of AI. This paper responds to the ontological confusion by reviewing and comparing Kubrick's speculative methodology to the practice of Design Fiction by unpacking Hal9000 as a diegetic prototype while defining the active threads of 'AI's Definitional Dualism'. The paper will also present a Design Fiction submerged in the reality of narrow AI and the adoption of a More-Than Human Centred Design approach to address the complexity of AI's ontology in alternative ways. Finally, this paper will also define the importance of researching the semantics of AI technology and how film and Design Fiction offer a discursive space for design research to transpire.
Downloads
Download data is not yet available.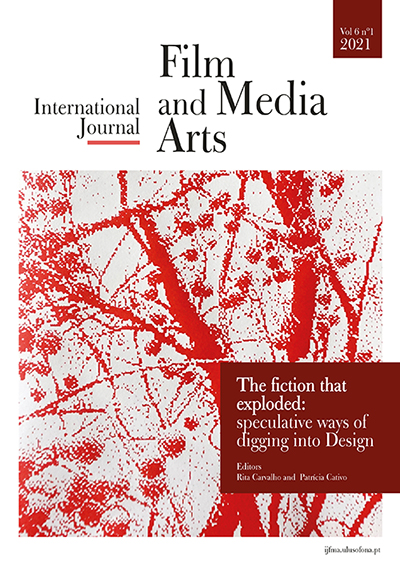 Copyright (c) 2021 IJFMA
This work is licensed under a Creative Commons Attribution-NonCommercial 4.0 International License.
Authors who publish with this journal agree to the following terms:
a) Authors retain copyright and grant the journal right of first publication with the work simultaneously licensed under a Creative Commons Attribution License that allows others to share the work with an acknowledgement of the work's authorship and initial publication in this journal. Read more at https://creativecommons.org/licenses/by-nc/4.0/.

b) Authors are able to enter into separate, additional contractual arrangements for the non-exclusive distribution of the journal's published version of the work (e.g., post it to an institutional repository or publish it in a book), with an acknowledgement of its initial publication in this journal. Please, contact the Editorial team before.

c) IJFMA is run and subsidised by the Film and Media Arts Department of Lusófona University, Lisbon, Portugal. Authors are not requested submission or processing fees. Under open access politics, articles are fully available upon publication. Authors are permitted and encouraged to post their work online (e.g., in institutional repositories or on their website) prior to and during the submission process, as it can lead to productive exchanges, as well as earlier and greater citation of published work (See The Effect of Open Access).