24 February 2022 - for a Geocinematic Use of Found Images
Hugo Barata

CICANT/ Lusófona University

Júlio Alves

CICANT/ Lusófona University
Abstract
Underlying the idea of precarity and the moving image, this paper describes the and theorizes about the original artwork 24TH FEBRUARY 2022 as a video-installation interconnected with the concepts of precarity in production, circulation, and participation in media culture today, this art-based research artwork tries to underpin the very nature of found material as a gateway from the public to the private, commenting on the spectacle of mass media images and also the production of "anarchival" gestures through which its possible to research a specific historic event. Included in a research project entitled FrameScapes that the authors are undergoing at this time, this research outcome relates to the war that Russia brought again to the gates of Europe when it invaded the Ukrainian territory, and also to the conflict in real-time - live action we could call it - in a way we haven't seen since Desert Storm back in 1991. A continuous feed of videos and photographs in an era of multi-screen distraction and tiktokian dystopias, artists and creatives have the upper hand in constructing from scratch, just like the cubists would glue together a piece of old newspaper and a matchbox to paint a still-life. The precarious nature of found material to make art is present since the first vanguard movements, from Picasso to Duchamp. Through the arts, we've been always confronted with gestures of appropriation, quotation, found-footage, archival art, collage or the ready-made, all of these related to meager images. From Marcel Duchamp to Kurt Schwitters, from Douglas Gordon to Christian Marclay, artists have always looked into the metaphor of the precarious as a recontextualization and remediation of image and sound. The artwork 24TH FEBRUARY 2022 is an exploratory artwork about the world-as-camera-screen, responding critically and creatively to different structures of the social, economic and political contexts in today's art research practice that deals with found materials. The phenomenon of a tele-visual structure presupposes different atopic tele-communities, built under the aegis of tele-presence and tele-objectivity – a dissolution of real space, that embraces geocinematics as a strong narrative contemporary structure, constructed with and bound by precarious images – images that are consistent with a tangible structure of the Real.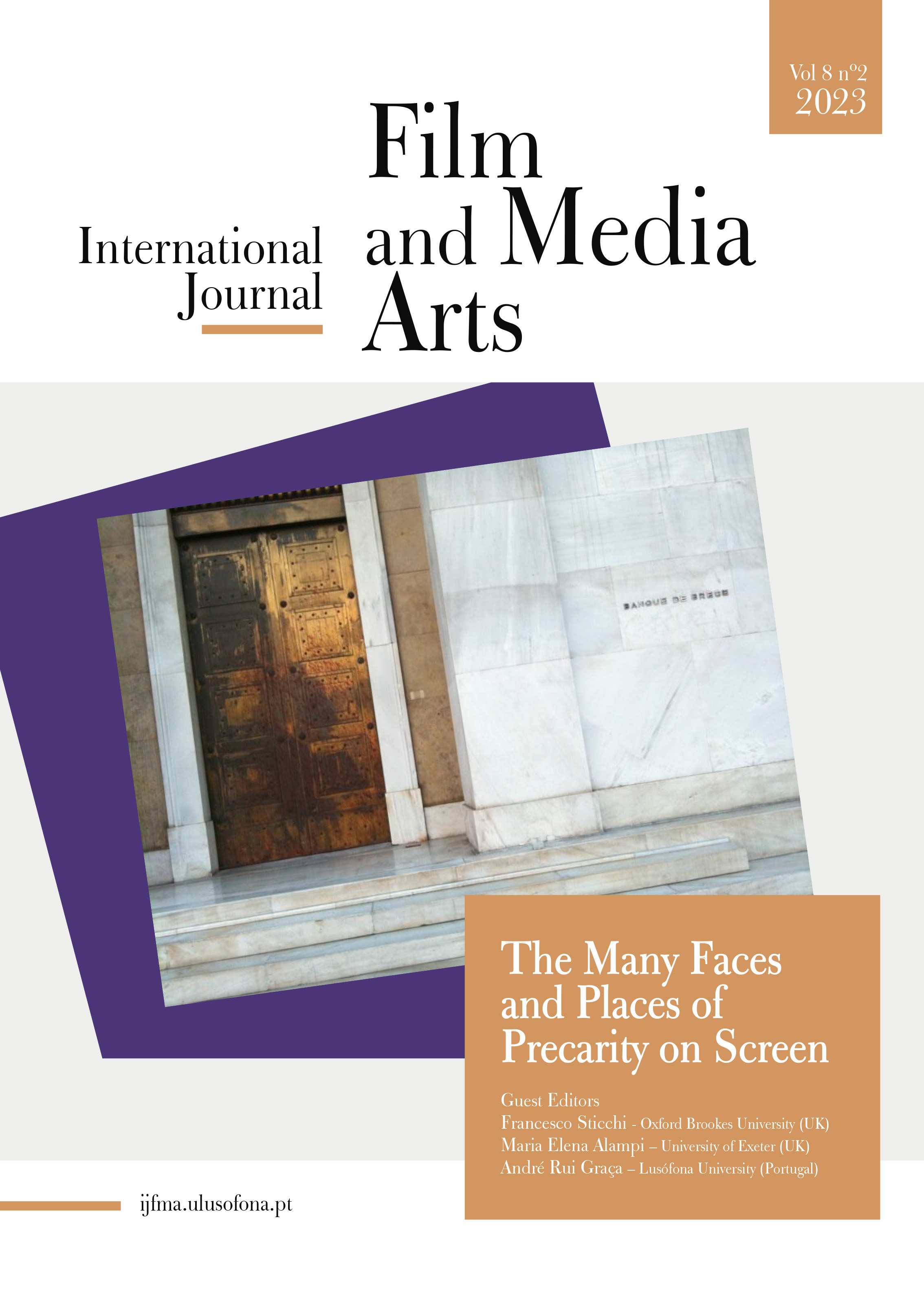 Copyright (c) 2023 International Journal of Film and Media Arts
This work is licensed under a Creative Commons Attribution-NonCommercial 4.0 International License.